U of T researchers find plants evolving to adapt to urbanization-driven environmental conditions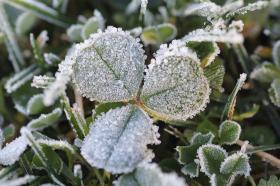 A tiny plant is providing big clues about how urbanization is driving the evolution of living organisms.
New research from U of T reveals the first evidence that the common white clover changes genetically to adapt to urban environments.
The study by U of T Mississauga researchers Ken Thompson and Marc Johnson also reveals surprising new information about the effect that city temperatures may play in the process. Marie Renaudin of AgroSup Dijon is a co-author on the paper, which appears in the journal Proceedings of the Royal Society B.
"Humans build cities and live in them, but many other organisms live in our cities too," says Thompson, who conducted the research while working on a master's degree in ecology and evolutionary biology at U of T. "We wanted to see whether natural populations are adapting to urbanization. We also wanted to understand the ecological features of cities that might be driving such adaptations."
The researchers studied white clover, which is commonly found in both urban and rural environments. Established traits of the plant include cyanogenesis, a poisonous chemical defence system that protects clover from herbivores.
Continue reading at University of Toronto.
Photo via University of Toronto.