Testing how species respond to climate change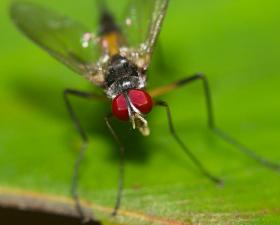 Predicting how species will respond to climate change is a critical part of efforts to prevent widespread climate-driven extinction, or to predict its consequences for ecosystems.
Usually, the current climatic range of a species is used to predict where it will occur under future climate change scenarios.
However, this approach overlooks two important factors that may affect species' responses to climate change:
Species may be able to change the climatic range they can inhabit through evolution
Species within an ecological community may respond differently to climate change, meaning the competitors, predators, pathogens and parasites that a given species encounters under the new climatic conditions may also change.
In a new study, published today in Global Change Biology, scientists from the University of Bristol, James Cook University, and Melbourne University in Australia tested the response of the tropical rainforest fly Drosophila birchii to a changing climate by transplanting flies in hundreds of cages along mountain gradients in north-eastern Australia, and measuring their reproductive success at different elevations.
Read more at University of Bristol
Photo credit: Graham Wise via Wikimedia Commons