Campus greenhouse gas emissions down 7 percent since 2014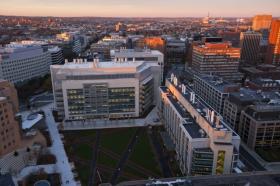 MIT's total campus emissions have dropped by 7 percent since 2014, according to MIT's second annual greenhouse gas inventory. The inventory, whose results were released by the MIT Office of Sustainability in collaboration with the Department of Facilities and the Environment, Health and Safety Office, measured campus emissions in fiscal year 2016, which runs from July 2015 through June 2016. The analysis provides a wealth of data to inform MIT's carbon-reduction strategies going forward.
"Step by step, we are making encouraging progress across the Institute," says Don Holmes, director of maintenance and utilities in MIT's Department of Facilities. "Teams from across the departments are employing creative energy-saving strategies that help optimize building performance, including upgrades to systems and lighting, improved insulation, and higher-efficiency materials and equipment. We are also investing in an upgrade to our power plant that will achieve additional emissions reductions."
One year ago, when President L. Rafael Reif announced MIT's five-year Plan for Action on Climate Change, the Institute committed to being a leader in solving the complex, global challenge of climate change. The announcement galvanized the already-engaged MIT community to take direct action to meet the plan's goals.
Continue reading at Massachusetts Institute of Technology
Photo Credit: MIT Image Library