CWRU researchers directly measure how perovskite solar films efficiently convert light to power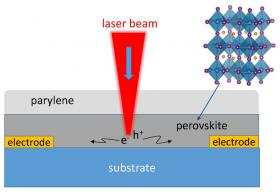 Measurement shows potential for building better solar cells by imaging fundamental properties of the material
Solar cells made with films mimicking the structure of the mineral perovskite are the focus of worldwide research. But only now have researchers at Case Western Reserve University directly shown the films bear a key property allowing them to efficiently convert sunlight into electricity.
Identifying that attribute could lead to more efficient solar panels.
Electrons generated when light strikes the film are unrestricted by grain boundaries—the edges of crystalline subunits within the film—and travel long distances without deteriorating, the researchers showed. That means electric charge carriers that become trapped and decay in other materials are instead available to be drawn off as current.
The scientists directly measured the distance traveled—called diffusion length—for the first time by using the technique called "spatially scanned photocurrent imaging microscopy." Diffusion length within a well-oriented perovskite film measured up to 20 micrometers.
Continue reading at Case Western Reserve University
Image: Schematic of scanning photocurrent imaging microscopy of halide perovskite film (side view).
Photo credit: Case Western Reserve University