PRESSURE FROM GRAZERS HASTENS ECOSYSTEM COLLAPSE FROM DROUGHT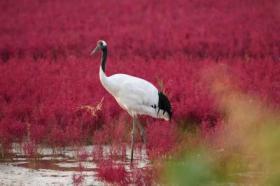 Extreme droughts, intensified by a warming climate, are increasingly causing ecosystem collapse in many regions worldwide. But models used by scientists to predict the tipping points at which drought stress leads to ecosystem collapse have proven unreliable and too optimistic.
A new study by scientists at Duke University and Beijing Normal University may hold the answer why.
The researchers found that these tipping points can happen much sooner than current models predict because of the added pressures placed on drought-weakened plants by grazing animals and fungal pathogens.
"Our work provides the first real-world experimental evidence that these natural enemies of plants can play a dramatic role in lowering ecosystems' tipping point by killing drought-weakened vegetation and preventing plants from recovering," said Brian R. Silliman, Rachel Carson Associate Professor of Marine Conservation Biology at Duke's Nicholas School of the Environment.
Ecologists have long known that drought can stimulate this type of attack on plants, he said, but they mostly discounted it as a secondary stress and not a main cause of ecosystem collapse.
"What we found is the opposite," Silliman said. "Grazers have a strong compounding effect. This means these ecosystems are far more vulnerable to drought than the current models predict. With grazers present, they can handle much less drought stress."
Continue reading at Duke University
Photo Credit: Xiaojun Wang