Scientists identify protein central to immune response against tuberculosis bacteria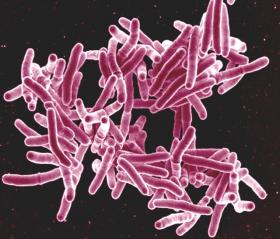 UT Southwestern Medical Center researchers have identified a protein that is central to the immune system's ability to recognize and destroy the bacterium responsible for the global tuberculosis (TB) epidemic.
The new finding, reported recently in Cell Host & Microbe, could someday lead to the development of immunity-based therapies to treat tuberculosis – which typically takes months to eradicate and has become increasingly resistant to antibiotics – by strengthening this immune pathway, said Dr. Michael Shiloh, Assistant Professor of Internal Medicine and Microbiology.
According to the World Health Organization, TB is a top infectious disease killer worldwide and is estimated to have infected 9.5 million people and caused 1.5 million deaths in 2014.
That year, tuberculosis surpassed HIV as the world's most lethal infection.
"The protein Smurf1 functions in specialized white blood cells called macrophages in both mice and humans, thereby suggesting a conserved evolutionary pathway," said Dr. Shiloh, co-senior author of the study along with Dr. Beth Levine, Director of the University's Center for Autophagy Research.
Read more at UT Southwestern Medical Center
Photo credit: NIAID via Wikimedia Commons