Dutch Trains Are World's First to Run on 100% Wind Power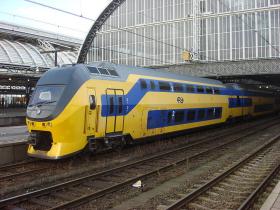 The Netherlands, aka Windmill Country, is now operating 100 percent of its electric trains with wind energy.
As of Jan. 1, 600,000 daily train passengers have been traveling completely carbon neutral, according to an announcement from the Netherlands' principal passenger railway operator, NS.
Dutch electric trains are running on 1.2 billion kilowatt-hours of wind energy supplied by sustainable energy supplier, Eneco. As Brightvibes noted, a "decreasing and relatively small number" of Dutch trains are still running on diesel.
NS and Eneco first announced their plan of a wind-powered railway in 2015 in order to drastically slash train ride emissions. Their original goal was to transition the trains to 100 percent renewable energy by 2018, but that target was moved up after reaching 75 percent in 2016. Impressively, this means their initial goal was met one whole year ahead of schedule.
According to Eneco, the power used by the carriers comes from newly built wind farms in the Netherlands, Scandinavia and Belgium. By tapping into both domestic and foreign sources of wind power, it "[ensures] that there is always sufficient green power available on the grid for rail companies, even if the wind is not blowing," the company explained.
Read more at Care2
Photo credit: Oxyman via Wikimedia Commons