Genome sequence of a polar alga explains adaptation to extreme climates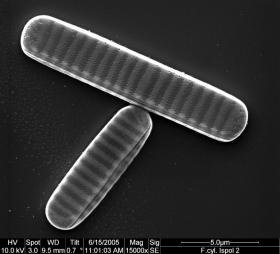 An international team of researchers has identified the genetic mutations which allowed microalgae (phytoplankton) from the Southern Ocean to adapt to extreme and highly variable climates – a step towards understanding how polar organisms are impacted by climate change.
The team led by Prof Thomas Mock from the University of East Anglia (UEA) School of Environmental Sciences investigated the evolutionary genomics of the polar diatom Fragilariopsis cylindrus, which has evolved to thrive in the Southern Ocean but also occurs in the Arctic Ocean. Genome sequencing was carried out at the U.S. Department of Energy Joint Genome Institute (Walnut Creek, US) and the Earlham Institute (EI) (Norwich, UK).
How phytoplankton have evolved to cope with polar marine conditions of strong seasonality, sub-zero temperatures and extended periods of darkness was largely unknown. The genome sequence from Fragilariopsis cylindrus represents the first complete genome of a polar eukaryote – a 'higher' organism with complex cells.
Read more at University of East Anglia
Image credit: Gerhard S. Dieckmann