Pancreatic tumors rely on signals from surrounding cells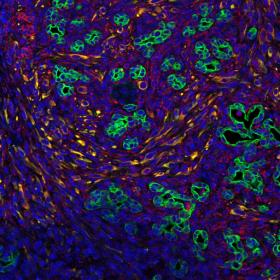 LA JOLLA—Just as an invasive weed might need nutrient-rich soil and water to grow, many cancers rely on the right surroundings in the body to thrive. A tumor's microenvironment—the nearby tissues, immune cells, blood vessels and extracellular matrix—has long been known to play a role in the tumor's growth.
Now, Salk scientists have pinned down how signals from this microenvironment encourage pancreatic tumors to grow by altering their metabolism. Blocking the pathways involved, they reported in Proceedings of the National Academy of Sciences the week of January 16, 2017, can slow the growth of a pancreatic cancer.
Pancreatic cancer has the worst five-year survival rate of any major cancer and is expected to be the second leading cause of cancer deaths by the year 2030. It's notoriously resistant to both chemotherapies and emerging immunotherapies, Evans says, emphasizing the importance of new treatment paradigms.
Read more at Salk
Image Credits Salk Institute