Tesla's New 'Autopilot' Is Just the Start of a Critical Reboot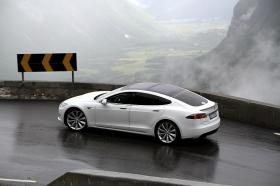 Tesla has always been about pushing full speed toward a tech-tastic future. CEO Elon Musk wouldn't settle for making a luxurious, sexy, environmentally-friendly electric car. He made one that could hit 60 mph in 3.2 seconds. Then 2.8 seconds. Then 2.5—all the while ratcheting up the range, from the original 265 miles per charge to the current, top of the line 335.
Then, in October, Tesla took what looked like a rare step backward: A year after turning on Autopilot and letting its cars drive themselves (on the highway, and with human supervision), it started selling cars with zero autonomous or active safety capabilities. Drivers had to do all the work themselves, just as if they had bought—gasp—a non-Tesla.
Fear not, Tesla fans. Musk hasn't dropped his self-driving dream. He has rebooted it to be grander than ever. The October retreat marked the launch of a long-term, one-step-back-two-leaps-forward strategy to go far beyond the limited vision of autonomy it had previously delivered. By investing in seriously upgraded sensors, software, and hardware, Tesla has said, forget the highway, forget needing humans in the loop. It wants its cars to drive themselves, everywhere and anywhere.
"All you will need to do is get in and tell your car where to go," Musk said in October.
Read more at Wired
Photo credit: Norsk Elbilforening (Norwegian Electric Vehicle Association) via Wikimedia Commons