New Technique Quickly Predicts Salt Marsh Vulnerability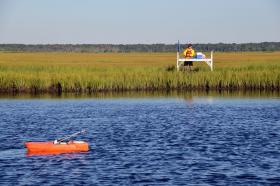 If coastal salt marshes are like savings accounts, with sediment as the principal, all eight Atlantic and Pacific coast salt marshes studied are "in the red," researchers found.
Scientists working on a rapid assessment technique for determining which US coastal salt marshes are most imperiled by erosion were surprised to find that all eight of the Atlantic and Pacific Coast marshes where they field-tested their method are losing ground, and half of them will be gone in 350 years' time if they don't recapture some lost terrain.
The US Geological Survey-led research team developed a simple method that land managers can use to assess a coastal salt marsh's potential to survive environmental challenges. The method, already in use at two national wildlife refuges, uses any one of several remote sensing techniques, such as aerial photography, to gauge how much of an individual marsh is open water and how much of it is covered by marsh plants. By comparing the ratio of ponds, channels and tidal flats to marsh vegetation, land managers can determine which marshes stand the best chance of persisting in the face of changing conditions.
This ratio, called the Unvegetated-Vegetated Marsh Ratio or UVVR, is a good surrogate for much more labor-intensive field studies, said oceanographer Neil Ganju of the USGS Woods Hole Coastal and Marine Science Center. Ganju is the lead author of the study, which was published Jan. 23 in Nature Communications.
"Our method does a good job of tracking the main destructive processes in marshes - the conversion of vegetated areas to open water, and the loss of sediment," Ganju said. "Together these changes control the long-term fate of the marsh."
Contiue reading at United States Geological Survey (USGS).
Photo via United States Geological Survey (USGS).