Investigadores reportan una nueva comprensión del calentamiento global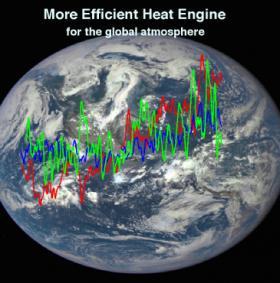 Los investigadores saben que las tormentas han comenzado a ocurrir con mayor frecuencia y que son más peligrosas a medida que el clima se calienta. Un equipo de científicos ha informado de una explicación, utilizando datos de satélites meteorológicos reunidos durante un período de 35 años.
El examen del movimiento y la interacción de las energías mecánicas a través de la atmósfera, publicado en enero en la revista Nature Communications, es el primero en explorar las variaciones a largo plazo del ciclo energético de Lorenz, una fórmula compleja utilizada para describir la interacción entre energía potencial y energía cinética en la atmósfera, y ofrece una nueva perspectiva sobre lo que está sucediendo con el calentamiento global.
"Es una nueva forma de ver y explicar lo que la gente ha observado", dijo Liming Li, profesor asistente de física de la Universidad de Houston y co-autor del artículo. "Encontramos que la eficiencia de la atmósfera global de la Tierra como motor térmico está aumentando durante las últimas cuatro décadas en respuesta al cambio climático".
En este caso, el aumento de la eficiencia no es algo bueno. Sugiere que se está convirtiendo más energía potencial en energía cinética, la energía que está impulsando el movimiento atmosférico, lo que resulta en un mayor potencial de tormentas destructivas en las regiones donde se produce la conversión.
Continúe leyendo en: University of Houston.
Crédito de la imagen: University of Houston.