NYC Toddlers Exposed to Potentially Harmful Flame-Retardants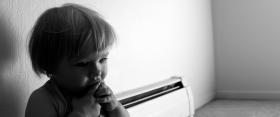 Researchers at the Columbia Center for Children's Environmental Health (CCCEH) within the Mailman School of Public Health report evidence of potentially harmful flame-retardants on the hands and in the homes of 100 percent of a sample of New York City mothers and toddlers. The study also found that, on average, toddlers in New York City had higher levels of common flame-retardants on their hands compared to their mothers.
The Center's previous research has linked early life exposure to a common class of flame-retardants called PBDEs with attention problems and lower scores on tests of mental and physical development in children. The latest results appear in the journal Emerging Contaminants.
Beginning in the 1970s, manufacturers added PBDEs—persistent brominated flame-retardants—to couches, textiles, electronics and other consumer products to comply with flammability standards. In 2004, they began phasing out PBDEs and started using newer alternative flame-retardants, including TBB and TBPH, which are brominated flame-retardants and components of the commercial mixture Firemaster 550®. Little is known about the health effects of TBB and TBPH in humans, though they have been linked to reduced fertility and endocrine disruption in animal models.
Read more at Columbia University
Image Credit: Columbia University