Study tracks vegetation resilience to salvage logging after severe wildfire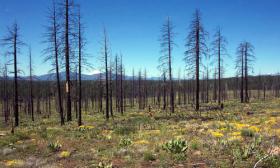 Nearly a decade after being logged, vegetation in forested areas severely burned by California's Cone Fire in 2002 was relatively similar to areas untouched by logging equipment. The findings of a U.S. Forest Service study shed light on how vegetation responds to severe wildfire and whether further disturbances from logging affect regrowth.
The study, "Response of understory vegetation to salvage logging following a high-severity wildfire," reports a modest difference between logged and unlogged areas for some shrubs, but researchers with the agency's Pacific Southwest Research Station conclude the diversity of plant species and their abundance, as a whole, differed little between logged and unlogged sites. Salvage logging refers to the practice of harvesting fire-killed trees ("salvage") to extract economic value from them before the wood decays.
The differences observed within the shrub communities could stem from the plants' reproduction cycle and timing of the logging operations.
Continue reading at Pacific Southwest Research Station/USDA Forest Service.
Photo via Pacific Southwest Research Station/USDA Forest Service.