Lakes respond differently to nitrogen disposition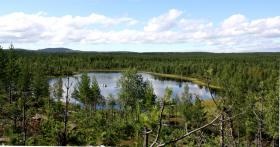 Nitrogen deposition caused by human activities can lead to an increased phytoplankton production in boreal lakes. The response of boreal lakes to nitrogen deposition will strongly depend on each lake's content of organic carbon, which are predicted to increase with future warmer and wetter climate. This according to a thesis at Umeå University.
The worldwide increase of inorganic nitrogen deposition via fossil fuel combustion, fertilization and forestry has been intervening drastically with the Earths' natural nitrogen cycle. Food webs of boreal lakes, that have historically received little nitrogen deposition until now, are expected to be especially susceptible to increases in inorganic nitrogen availability.
Simultaneously, global change mediated by warming, increased precipitation, and reduced atmospheric sulfate deposition is enhancing terrestrial dissolved organic carbon loadings to aquatic systems.
However, whole lake experiments demonstrating the consequences of increased inorganic nitrogen and organic carbon availability on productivity and food web structure in natural boreal lakes have been missing until now.
Continue reading at Umea University
Image: Anne Deininger has studied how nitrogen deposition affects food webs of boreal lakes. Here: sampling at lake Nästjärn. Credit: Marcus Klaus