Campus natural gas power plants pose no radon risks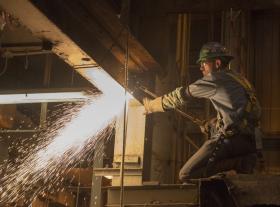 When Penn State decided to convert its two power plants from their historic use of coal as a source of energy to natural gas, there was concern about radon emissions. Although radon is known to exist in natural gas, now Penn State research indicates that it does not escape from these two power plants in harmful amounts.
By converting the West Campus Steam Plant on the University Park Campus, Penn State reduced its greenhouse gas emissions at the plant by nearly 40 percent, but the University wanted to make sure that the conversion was not causing a significant increase of radon levels in the atmosphere. Penn State also operates a second power plant on the East end of campus near its football stadium.
A two-year study on the radon concentrations associated with burning natural gas, commissioned by Penn State's Office of the Physical Plant and conducted by University researchers, concluded that the plants posed no radon-related health risks. The results were published in the Journal of the Air & Waste Management Association.
Continue reading at Penn State
Image: Cutting torches are used to take down support beams during the removal of old boilers from Penn State's power plant in preparation for the facility's conversion to natural gas in 2014. A recent study by Penn State researchers found the power plant conversion resulted in no health risks from radon, which is found in natural gas.
Credit: Patrick Mansell / Penn State