Unraveling the Myriad Causes Of North India's Pollution Pall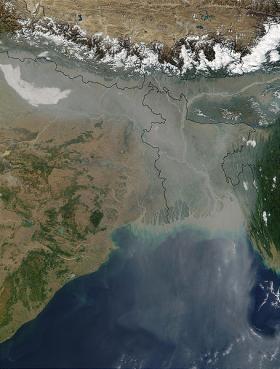 A brown cloud of air pollution now frequently shrouds much of northern India. It's a growing regional health and environmental problem, and scientists are working to understand its many causes, which range from the burning of agricultural waste to auto emissions.
On a recent winter morning, the road out of Varanasi, India's holiest city, was a swirl of exhaust fumes and construction dust. Fog that had disrupted travel for a couple of days had lifted, and everyone was on the move again. Yet a haze remained, with fields of wheat stretching away into a dim miasma. Approaching the industrial town of Kanpur, 200 miles to the northwest, the air was thick with pollution. Brick kilns flashed by, along with heaps of garbage. Smokestacks loomed in the distance. Roadside vegetation was coated with dust and ash.
For years, air pollution in India was seen as a problem largely for New Delhi, especially after the World Health Organization put India's capital atop its list of most polluted global cities in 2014. But, as new data show, Delhi residents are hardly alone. A December report by IndiaSpend, an independent data journalism initiative, found that Varanasi had the country's most toxic air, closely followed by other North Indian cities like Allahabad, Patna, and Kanpur. The air is so bad in Varanasi that of the 227 days when air quality was measured in 2015, not a single one met national air quality standards.
A combination of unique geography and rising emissions has turned the air foul in most cities throughout North India and, indeed, across the entire Indo-Gangetic plain, which stretches from Pakistan through India to Bangladesh. This pall of pollution is not a new discovery — scientists first identified a haze blanketing this region in the 1990s. But studies have shown that the pollution has dramatically increased over the past decade, with alarming effects on human health, including significantly shortened life expectancies.
Read more at Yale Environment 360
Photo credit: Jacques Descloitres, MODIS Land Rapid Response Team, NASA/GSFC via Wikimedia Commons