Evidence of Sea-level Change in Southeast Asia 6,000 Years Ago Has Implications for Today's Coastal Dwellers, Rutgers Study Finds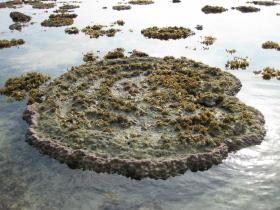 For the 100 million people who live within 3 feet of sea level in East and Southeast Asia, the news that sea level in their region fluctuated wildly more than 6,000 years ago is important, according to research published by a team of ocean scientists and statisticians, including Rutgers professors Benjamin Horton and Robert Kopp and Rutgers Ph.D. student Erica Ashe. That's because those fluctuations occurred without the assistance of human-influenced climate change.
In a paper published in Nature Communications, Horton, Kopp, Ashe, lead author Aron Meltzner and others report that the relative sea level around Belitung Island in Indonesia rose twice just under 2 feet in the period from 6,850 years ago to 6,500 years ago. That this oscillation took place without any human-assisted climate change suggests to Kopp, Horton and their co-authors that such a change in sea level could happen again now, on top of the rise in sea level that is already projected to result from climate change. This could be catastrophic for people living so close to the sea.
"This research is a very important piece of work that illustrates the potential rates of sea-level rise that can happen from natural variability alone," says Horton, professor of marine and coastal sciences in the School of Environmental and Biological Sciences. "If a similar oscillation were to occur in East and Southeast Asia in the next two centuries, it could impact tens of millions of people and associated ecosystems."
Continue reading at Rutgers University
Photo: A microatoll near Belitung Island in Indonesia. (Credit: Photo: Aron Meltzner, Nanyang Technological University, Singapore)