Bigger May Not Be Better When It Comes to Mississippi River Diversions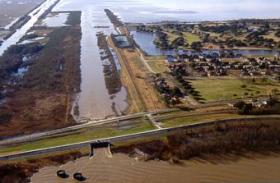 River diversions are a common coastal wetland restoration tool, but recent research, conducted by U.S. Geological Survey in collaboration with researchers in Louisiana State University's Department of Civil and Environmental Engineering and the LSU AgCenter, has shown that large-scale Mississippi River diversions may significantly change water quality in estuaries, affecting economically important shellfish and fish species.
River diversions are used to provide sediment and nutrients to surrounding estuaries to help rebuild wetlands, and are managed by the state of Louisiana in partnership with the US Army Corps of Engineers and other federal agencies. Large-scale diversions in the Mississippi River have been planned to enhance coastal wetland resilience, helping them to keep pace with sea-level rise.
"The large-scale diversions will likely cause shifts in salinity, which have huge implications for the plants and animals that need a specific salinity," said Hongqing Wang, USGS Research Ecologist and lead author of the study. "Oysters, in particular, need suitable salinities in estuaries in order to grow big enough to harvest, and to produce the next generation."
Continue reading at United States Geological Survey (USGS).
Photo via United States Geological Survey (USGS).