New Methods Further Discern Extreme Fluctuations in Forage Fish Populations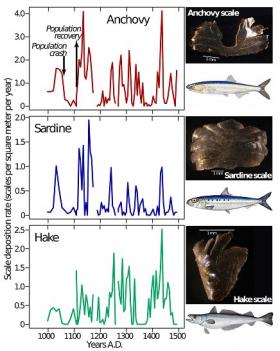 California sardine stocks famously crashed in John Steinbeck's "Cannery Row." New research, building on the pioneering work of Soutar and Isaacs in the late 1960's and others, shows in greater detail that such forage fish stocks have undergone boom-bust cycles for centuries, with at least three species off the U.S. West Coast repeatedly experiencing steep population increases followed by declines long before commercial fishing began.
Natural population fluctuations in Pacific sardine, northern anchovy and Pacific hake off California have been so common that the species were in collapsed condition 29 to 40 percent of the time over the 500-year period from A.D. 1000 to 1500, according to the study published today in Geophysical Research Letters. Using a long time series of fish scales deposited in low-oxygen offshore sedimentary environments off southern California, the authors from NOAA Fisheries and the University of Michigan described such collapses as "an intrinsic property of some forage fish populations that should be expected, just as droughts are expected in an arid climate."
The findings have implications for the ecosystem, as well as fishermen and fisheries managers, who have witnessed several booms, followed by crashes every one to two decades on average and lasting a decade or more, the scientists wrote. Collapses in forage fish can reverberate through the marine food web, possibly causing prey limitation among predators such as sea lions and sea birds.
Continue reading at NOAA
Anchovy, sardine, and hake scale deposition rate from AD 1000 − 1500 derived from a recent, age-calibrated sediment core from the Santa Barbara Basin, California. Representative fish scales and the respective fishes are shown on the right. Image credit: I.L. Hendy, University of Michigan; S. McClatchie, NOAA Fisheries; NMFS Image Library