Crystal Growth, Earth Science and Tech Demo Research Launching to Orbiting Laboratory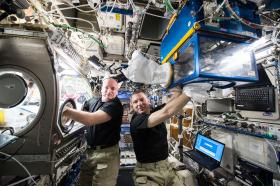 The tenth SpaceX cargo resupply launch to the International Space Station, targeted for launch Feb. 18, will deliver investigations that study human health, Earth science and weather patterns. Here are some highlights of the research headed to the orbiting laboratory:
Crystal growth investigation could improve drug delivery, manufacturing
Monoclonal antibodies are important for fighting off a wide range of human diseases, including cancers. These antibodies work with the natural immune system to bind to certain molecules to detect, purify and block their growth. The Microgravity Growth of Crystalline Monoclonal Antibodies for Pharmaceutical Applications (CASIS PCG 5) investigation will crystallize a human monoclonal antibody, developed by Merck Research Labs, that is currently undergoing clinical trials for the treatment of immunological disease.
Preserving these antibodies in crystals allows researchers a glimpse into how the biological molecules are arranged, which can provide new information about how they work in the body. Thus far, Earth-grown crystalline suspensions of monoclonal antibodies have proven to be too low-quality to fully model. With the absence of gravity and convection aboard the station, larger crystals with more pure compositions and structures can grow.
Continue reading at NASA
Photo: NASA astronauts Scott Kelly and Terry Virts work within the Microgravity Science Glovebox during a previous Rodent Research investigation. Rodent Research 4 could provide a more thorough understanding of humans' inability to grow a lost limb at the wound site and could lead to tissue regeneration efforts in space.
Credits: NASA