Fluorescence method detects mercury contamination in fish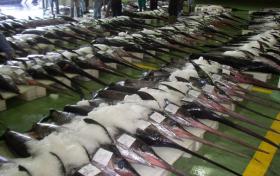 Researchers from the University of Burgos (Spain) have developed a fluorescent polymer that lights up in contact with mercury that may be present in fish. High levels of the metal were detected in samples of swordfish and tuna. According to the conclusions of another Spanish study, mercury exposure is linked to reduced foetal and placental growth in pregnant women.
The presence of the toxic metal mercury in the environment comes from natural sources, however, in the last decades industrial waste has caused an increase in concentrations of the metal in some areas of the sea. In the food chain, mercury can be diluted either in organic form as methylmercury (MeHg+) or as an inorganic salt, the cation Hg2+.
Now, researchers from the University of Burgos have created a fluorescent polymer, JG25, which can detect the presence of these two forms of mercury in fish samples. The development is published in the journal 'Chemical Communications'.
"The polymer remains in contact with samples extracted directly from the fish for around 20 minutes. Then, while is being irradiated with ultraviolet light, it emits a bluish light, which varies in intensity proportionally to the quantity of methylmercury and inorganic mercury present in the fish," explains Tomás Torroba, lead author of the paper.
Continue reading at Plataforma SINC
Swordfish auction in the fish market of Vigo (Spain) via José Antonio Gil Martínez