Colorado River Flows to Keep Shrinking as Climate Warms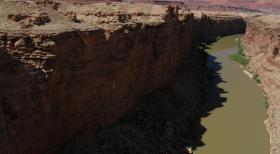 Warming in the 21st century reduced Colorado River flows by at least 0.5 million acre-feet, about the amount of water used by 2 million people for one year, according to new research from the University of Arizona and Colorado State University.
The research is the first to quantify the different effects of temperature and precipitation on recent Colorado River flow, said authors Bradley Udall of CSU and Jonathan Overpeck of the UA.
From 2000-2014, the river's flows declined to only 81 percent of the 20th-century average, a reduction of about 2.9 million acre-feet of water per year. One acre-foot of water will serve a family of four for one year, according to the U.S. Bureau of Reclamation.
Read more at Univeristy of Colorado
Image Credits: Stewart Tomlinson/U.S. Geological Survey