Over time, nuisance flooding can cost more than extreme, infrequent events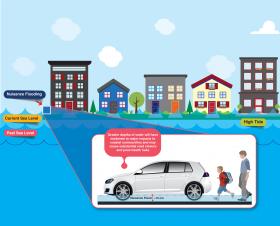 Global climate change is being felt in many coastal communities of the United States, not always in the form of big weather disasters but as a steady drip, drip, drip of nuisance flooding.
According to researchers at the University of California, Irvine, rising sea levels will cause these smaller events to become increasingly frequent in the future, and the cumulative effect will be comparable to extreme events such as Hurricane Katrina or Superstorm Sandy.
"Catastrophic storms get a lot of media attention and are studied, but we wanted to know more about the non-extreme events," said Amir AghaKouchak, UCI associate professor of civil & environmental engineering and co-author of a new study on cumulative hazards in the American Geophysical Union journal Earth's Future.
Read more at UCI News
Image Credits: Jennie Brewton / UCI