'Smart' bacteria remodel their genes to infect our intestines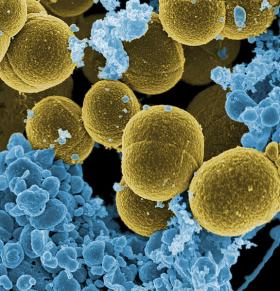 Hebrew University researchers describe how infectious bacteria sense they're attached to intestinal cells and remodel their gene expression to exploit our cells and colonize our gut.
Infectious diarrhea, a common disease of children, is responsible for over 2 million infant deaths annually in developing counties alone. A primary cause of this and other devastating conditions is enteropathogenic bacteria, which attack the intestinal tract when contaminated food is consumed.
The infection process involves hundreds of genes and proteins, both in the infectious bacteria and the human host. However, the processes by which the pathogens establish themselves in our gut are poorly understood.
Now, a new study published in the prestigious journal Science, by researchers at the Hebrew University of Jerusalem's Faculty of Medicine, describes how pathogens sense their host, and tailor their gene expression to exploit their host to cause disease. The research was led by led by Prof. Ilan Rosenshine, the Etta Rosensohn Professor of Bacteriology at the Hebrew University.
Read more at The Hebrew University of Jerusalem
Photo credit: NIAID via Wikimedia Commons