Manhattan-Sized Iceberg Breaks Off Antarctica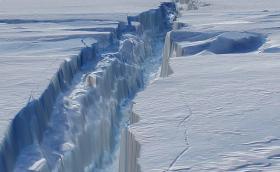 Antarctica's Pine Island Glacier lost another large chunk of ice at the end of January. The section of ice that broke off the glacier on the western coast of Antarctica was roughly the size of Manhattan. It was 10 times smaller than the piece the same glacier sloughed in July 2015.
After the enormous piece of ice broke off The Pine Island Glacier in 2015, cracks were spotted during a late 2016 flyover, Climate Central reported. The recent smaller, though still substantial, ice breakage is considered an "after-shock" event, Ohio State glaciologist Ian Howat told NASA. NASA's Operational Land Imager captured a series of images documenting the ice loss.
The Pine Island Glacier is known as a fast stream glacier because it moves quickly and commonly sheds ice. It is already responsible for 25 percent of Antarctica's ice loss, according to Digital Journal.
The phenomenon of rapid glacial calving or ice loss "fits into the larger picture of basal crevasses in the center of the ice shelf being eroded by warm ocean water, causing the ice shelf to break from the inside out," Howatt said. Basal crevasses are cracks that extend upward from the base of the body of ice.
Read more at Care2
Photo credit: NASA Goddard Space Flight Center