Light-Driven Reaction Converts Carbon Dioxide into Fuel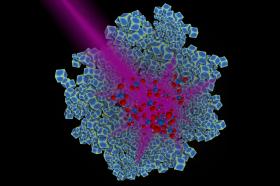 Duke University researchers have developed tiny nanoparticles that help convert carbon dioxide into methane using only ultraviolet light as an energy source.
Having found a catalyst that can do this important chemistry using ultraviolet light, the team now hopes to develop a version that would run on natural sunlight, a potential boon to alternative energy.
Chemists have long sought an efficient, light-driven catalyst to power this reaction, which could help reduce the growing levels of carbon dioxide in our atmosphere by converting it into methane, a key building block for many types of fuels.
Not only are the rhodium nanoparticles made more efficient when illuminated by light, they have the advantage of strongly favoring the formation of methane rather than an equal mix of methane and undesirable side-products like carbon monoxide. This strong "selectivity" of the light-driven catalysis may also extend to other important chemical reactions, the researchers say.
Continue reading at the Duke University
Image: Duke University researchers have engineered rhodium nanoparticles (blue) that can harness the energy in ultraviolet light and use it to catalyze the conversion of carbon dioxide to methane, a key building block for many types of fuels. Credit: Chad Scales