Invasive and Native Marsh Grasses May Provide Similar Benefits to Protected Wetlands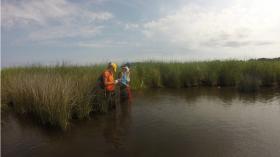 An invasive species of marsh grass that spreads, kudzu-like, throughout North American wetlands, may provide similar benefits to protected wetlands as native marsh grasses. According to new research from North Carolina State University, the invasive marsh grass's effects on carbon storage, erosion prevention and plant diversity in protected wetlands are neutral. The findings could impact management strategies aimed at eradicating the invasive grass.
Phragmites australis, known as the common reed, is an invasive marsh grass that can spread at rates up to 15 feet per year. It thrives throughout North American wetlands, and studies have demonstrated that its densely packed growth pattern chokes out native marsh plants, thereby reducing plant diversity and habitat used by some threatened and endangered birds.
However, other studies have shown that Phragmites may help reduce shoreline erosion in marshlands and store carbon at faster rates than native grasses.
Since managing the threat is costly – in 2013, efforts to eradicate Phragmites cost about $4.5 million – Seth Theuerkauf, a Ph.D. candidate in marine, earth and atmospheric sciences at NC State, decided to look at how relative abundance of the marsh grass affected the ecosystem services that humans value from marshes, such as their ability to stabilize shorelines.
Read more at North Carolina State University
Photo Credits: Seth Theuerkauf