Brake Dust May Cause More Problems Than Blackened Wheel Covers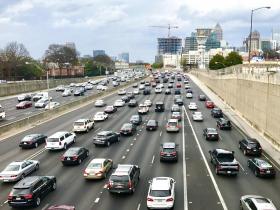 Though tailpipe emissions could fall in the years ahead as more zero-emission vehicles hit the streets, one major source of highway air pollution shows no signs of abating: brake and tire dust.
Metals from brakes and other automotive systems are emitted into the air as fine particles, lingering over busy roadways. Now, researchers at Georgia Institute of Technology have shown how that cloud of tiny metal particles could wreak havoc on respiratory health.
In a study published January 31 in the journal Environmental Science & Technology, the researchers described how vehicle-emitted metals such as copper, iron and manganese interact with acidic sulfate-rich particles already in the air to produce a toxic aerosol.
"There's a chain reaction happening in the air above busy highways," said Rodney Weber, a professor in Georgia Tech's School of Earth & Atmospheric Sciences. "Acidic sulfate in the atmosphere comes into contact with those metals emitted from traffic and changes their solubility, making them more likely to cause oxidative stress when inhaled."
Read more at Georgia Institute of Technology
Photo: Rush hour traffic on the downtown connector in Atlanta.
Photos courtesy Josh Brown