Volcano Breath: Measuring Sulfur Dioxide from Space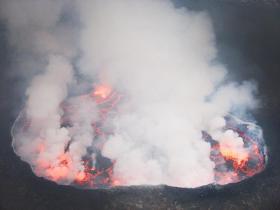 There is no mint that can take the edge off sulfurous emissions from volcanoes, but researchers can use remote sensing to better understand volcanic breathing.
Volcanoes erupt, they spew ash, their scarred flanks sometimes run with both lava and landslides. But only occasionally. A less dramatic but important process is continuous gas emissions from volcanoes; in other words, as they exhale. A number of volcanoes around the world continuously exhale water vapor laced with heavy metals, carbon dioxide, hydrogen sulfide and sulfur dioxide, among many other gases. Of these, sulfur dioxide is the easiest to detect from space.
In a new study published in Scientific Reports (DOI: 10.1038/srep44095) this week, a team led by researchers from Michigan Technological University created the first, truly global inventory for volcanic sulfur dioxide emissions, using data from the Dutch-Finnish Ozone Monitoring Instrument on NASA's Earth Observing System Aura satellite launched in 2004. They compiled emissions data from 2005 to 2015 to produce annual estimates for each of 91 presently emitting volcanoes worldwide. The data set will help refine climate and atmospheric chemistry models and provide more insight into human and environmental health risks.
Read more at Michigan Technological University
Image Caption: This is a lava lake in the crater of Mount Nyiragongo in the Democratic Republic of the Congo. (Credits: Simon Carn/Michigan Technological University)