Salad bars in public schools: How to get kids to use them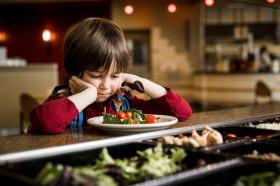 Thanks to a national initiative, salad bars are showing up in public schools across the country. Now a Brigham Young University researcher is trying to nail down how to get kids to eat from them.
BYU health sciences professor Lori Spruance studies the impact of salad bars in public schools and has found one helpful tip: teens are more likely to use salad bars if they're exposed to good, old-fashioned marketing. Students at schools with higher salad bar marketing are nearly three times as likely to use them.
"Children and adolescents in the United States do not consume the nationally recommended levels of fruits and vegetables," Spruance said. "Evidence suggests that salad bars in schools can make a big difference. Our goal is to get kids to use them."
Some 4,800 salad bars have popped up in public schools around the country according to the Let's Move Salad Bars to Schools initiative. About 50 percent of high school students have access to salad bars at schools, 39 percent of middle school kids and 31 percent of elementary school children.
Read more at Brigham Young University
Image: A child chooses food from a salad bar. (Credit: Nate Edwards/BYU Photo)