CO2 Levels Continue to Increase at Record Rate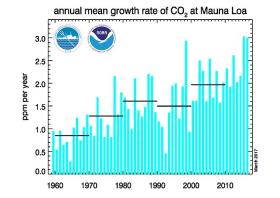 For the second year in a row, carbon dioxide levels in the atmosphere have increased at a record rate, jumping 3 parts per million (ppm) in 2016, according to data from the National Oceanic and Atmospheric Administration. CO2 concentrations rose 3.03 ppm in 2015, making the last two years the first time that the greenhouse gas has risen more than 3 ppm in NOAA's 59 years of monitoring, Climate Central reported.
The data was collected at the Mauna Loa Observatory in Hawaii. Global CO2 concentrations currently stand at 406.42 ppm, and could reach 410 ppm later this spring, scientists estimate — a level never before seen in human history. Scientists said last year's El Nino contributed slightly to the recent uptick, but that most of the increase was due to rising global greenhouse gas emissions.
Read more at Yale Environment 360
Image: Annual mean carbon dioxide growth rates observed at NOAA's Mauna Loa Baseline Atmospheric Observatory since the 1950s. (Credits: NOAA)