Indoor farming takes root at University of Toronto - Mississauga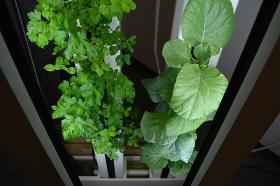 At University of Toronto Mississauga, a plastic tower sprouts produce including curly starbor kale, buttercrunch and collard greens.
Rising almost six feet off the ground and illuminated by high output fluorescent bulbs, the indoor farm wall grows plants hydroponically – with nutrient solution, instead of soil. The water nourishes the roots, collects in a gutter and then recirculates back to a nutrient tank that feeds back into the hydroponic system.
The farm wall was the idea of Master of Science in Sustainability Management (MScSM) students Conner Tidd and Kevin Jakiela who partnered with Modular Farms Co., which specializes in vertical farming systems, to create distribution channels and services.
"You can grow pretty much anything," Jakiela says. "Here, we've already grown three different types of lettuce, Genovese basil, joi choi, peppermint and parsley."
Continue reading at University of Toronto.
Photo via University of Toronto.