Fish evolve by playing it safe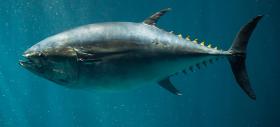 New research supports the creation of more marine reserves in the world's oceans because, the authors say, fish can evolve to be more cautious and stay away from fishing nets.
The research suggests that by creating additional "no-take" areas, some fish will stay within marine reserves where they are protected from fishing. While other fish will move around the ocean, these less mobile fish will continue to live in the protected areas, pass this behaviour on to their offspring, and contribute to future generations to increase the overall stock.
"Even for fish like tuna and sharks that spend a lot of time far from shore, marine reserves are an important conservation tool," said Jonathan Mee, lead author of the study and a faculty member at Mount Royal University who conducted this research while completing a postdoctoral fellowship at UBC. "We used mathematical modelling to find out under what conditions marine reserves might push fish to evolve to escape capture."
In a collaboration between UBC's Biodiversity Research Centre and the Sea Around Us project at the Institute for the Oceans and Fisheries, researchers modeled the movements of skipjack and bluefin tuna and great white sharks in the ocean.
Continue reading at University of British Columbia (UBC).
Photo via University of British Columbia (UBC)