Rice U. refines filters for greener natural gas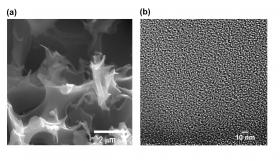 Natural gas producers want to draw all the methane they can from a well while sequestering as much carbon dioxide as possible, and could use filters that optimize either carbon capture or methane flow. No single filter will do both, but thanks to Rice University scientists, they now know how to fine-tune sorbents for their needs.
Subtle adjustments in the manufacture of a polymer-based carbon sorbent make it the best-known material either for capturing the greenhouse gas or balancing carbon capture with methane selectivity, according to Rice chemist Andrew Barron.
The specifics are in a paper this month by Barron and Rice research scientist Saunab Ghosh in the Royal Society of Chemistry journal Sustainable Energy and Fuels.
"The challenge is to capture as much carbon as possible while allowing methane to flow through at typical wellhead pressures," Barron said. "We've defined the parameters in a map that gives industry the best set of options to date."
Image: A scanning electron microscope image, left, and a high-resolution transmission electron microscope image show an activated, sulfur-containing porous carbon sample. The material created at Rice University can be tuned to balance carbon dioxide sequestration and methane selectivity. Click on the image for a larger version. Courtesy of the Barron Research Group
See more at: http://news.rice.edu/2017/03/23/rice-u-refines-filters-for-greener-natural-gas-2/#sthash.QhYfxj96.dpuf