Winter Sets Up Bird Breeding Success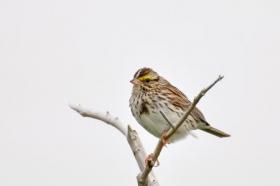 For migratory birds, breeding grounds are where the action is. But a new study by University of Guelph biologists is among the first to suggest that the number of songbirds breeding during spring and summer depends mostly on what happens at their wintering grounds.
The pioneering study points to potential effects of climate change and may help conservation groups better protect migratory birds, including many species whose numbers have dropped in recent years, says Brad Woodworth, a PhD student in the Department of Integrative Biology and the study's lead author.
The paper appears today in Nature Communications. Co-authors are U of G professors Ryan Norris and Amy Newman, and researchers in Maine and Switzerland.
Most researchers spend more time studying birds during the summer breeding season, but this study looked at how conditions in summer and winter homes affected population numbers of savannah sparrows.
Continue reading at University of Guelph.
Photo via University of Guelph.