NOAA study shows as US drilling surged, methane emissions didn't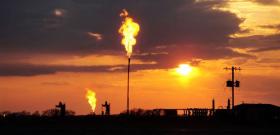 A new NOAA study shows that methane emissions from the United States did not grow significantly from 2000 to 2013 and are not likely to have been an important driver of the increase in atmospheric methane levels observed worldwide after 2007, as other studies have suggested.
The paper, published in the Journal of Geophysical Research: Atmospheres on March 24, provides additional insight into a question that has puzzled scientists for the past decade: What has been causing the increase in global methane levels since 2007?
To examine whether U.S. oil and gas development could be playing a role, NOAA scientist Lori Bruhwiler and an international team of scientists analyzed methane levels in air samples collected by NOAA aircraft around the U.S. They did not find evidence of large increases in methane emissions.
"Our results show that U.S. methane emissions have likely grown at a very slow rate," said Bruhwiler, the lead author of the paper. "Other scientists have proposed that large increases from the U.S. are a significant contributor to the global increase, and we just couldn't find evidence of this from our measurements."
Continue reading at National Oceanic and Atmospheric Administration (NOAA).
Photo via National Oceanic and Atmospheric Administration (NOAA).