Extreme weather events linked to climate change impact on the jet stream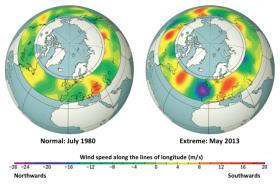 Unprecedented summer warmth and flooding, forest fires, drought and torrential rain — extreme weather events are occurring more and more often, but now an international team of climate scientists has found a connection between many extreme weather events and the impact climate change is having on the jet stream.
"We came as close as one can to demonstrating a direct link between climate change and a large family of extreme recent weather events," said Michael Mann, distinguished professor of atmospheric science and director, Earth System Science Center, Penn State. "Short of actually identifying the events in the climate models."
The unusual weather events that piqued the researchers' interest are things such as the 2003 European heat wave, the 2010 Pakistan flood and Russian heatwave, the 2011 Texas and Oklahoma heat wave and drought and the 2015 California wildfires.
The researchers looked at a combination of roughly 50 climate models from around the world that are part of the Coupled Model Intercomparison Project Phase 5 (CMIP5), which is part of the World Climate Research Programme. These models are run using specific scenarios and producing simulated data that can be evaluated across the different models. However, while the models are useful for examining large-scale climate patterns and how they are likely to evolve over time, they cannot be relied on for an accurate depiction of extreme weather events. That is where actual observations prove critical.
Read more at Penn State
Image: On the left is an image of the global circulation pattern on a normal day. On the right is the image of the global circulation pattern when extreme weather occurs. The pattern on the right shows extreme patterns of wind speeds going north and south, while the normal pattern on the left shows moderate speed winds in both the north and south directions. (Credit: Michael Mann / Penn State)