Farming becoming riskier under climate change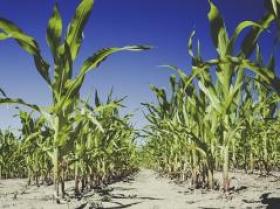 Scientists the world over are working to predict how climate change will affect our planet. It is an extremely complex puzzle with many moving parts, but a few patterns have been consistent, including the prediction that farming as we know it will become more difficult.
Scientists infer the impact on agriculture based on predictions of rainfall, drought intensity, and weather volatility. Until now, however, the average farmer may not have been able to put predictions like these into practice. A new University of Illinois study puts climate change predictions in terms that farmers are used to: field working days.
"Everything else flows from field working days," says U of I and USDA Agricultural Research Service ecologist Adam Davis. "If you're not able to work, everything else gets backed up. Workable days will determine the cultivars, the cropping system, and the types of pest management practices you can use. We're simply asking, 'Can you get in to plant your crop?'"
In a previous study, the group developed models that reliably translated past climate data into field working days for Illinois. In the new study, they coupled those models with climate change scenarios to forecast field working days into the future.
Read more at University of Illinois College of Agricultural, Consumer and Environmental Sciences (ACES)
Photo via (ACES)