Tiny bacterium provides window into whole ecosystems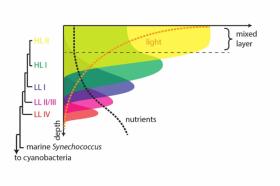 William Blake may have seen a world in a grain of sand, but for scientists at MIT the smallest of all photosynthetic bacteria holds clues to the evolution of entire ecosystems, and perhaps even the whole biosphere.
The key is a tiny bacterium called Prochlorococcus, which is the most abundant photosynthetic life form in the oceans. New research shows that this diminutive creature's metabolism has evolved in a way that may have helped trigger the rise of other organisms, to form a more complex marine ecosystem. Its evolution may even have helped to drive global changes that made possible the development of Earth's more complex organisms.
The research also suggests that the co-evolution of Prochlorococcus and its interdependent co-organisms can be seen as a microcosm of the metabolic processes that take place inside the cells of much more complex organisms.
The new analysis is published this week in the journal Proceedings of the National Academy of Sciences, in a paper by postdoc Rogier Braakman, Professor Michael Follows, and Institute Professor Sallie (Penny) Chisholm, who was part of the team that discovered this tiny organism and its outsized influence.
Continue reading at MIT.
Photo via MIT.