Steering towards grazing fields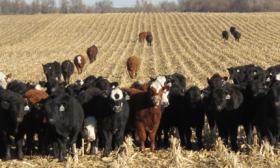 It makes sense that a 1,200 pound Angus cow would place quite a lot of pressure on the ground on which it walks. But a new study shows that even these heavy beasts can't do much to compact common soils—if they're grazed responsibly.
The study is unique in its 16-year span. Researchers wanted to know whether grazing cattle on corn stubble left in the field in fall and spring would significantly affect the quality of the soil. It was established in 1997 by Terry Klopfenstein, professor in the department of Animal Science at the University of Nebraska-Lincoln. Humberto Blanco, a soil scientist and associate professor in the department of Agronomy and Horticulture, led the soil research to evaluate the long-term impact.
"We were looking at soil ecosystem services," Blanco said. Ecosystem services are indicators of healthy soil. It includes soil compaction and soil structural properties, as well as microbial community structure. Researchers matched these properties with corn and soybean yields to gauge whether any changes in the soil properties affected crop outcomes.
"We did not see any negative effects of grazing residues on soil properties except compaction," Blanco said. "Compaction increased with grazing as expected, but it was not high enough to reduce yields. The level of compaction was too small to adversely affect corn or soybean yield."
Read more at American Society of Agronomy
Image: Researchers found that grazing corn residues could actually improve certain soil properties and is preferable to baling. (Credit: Mary Drewnoski)