Legends of the lost reservoirs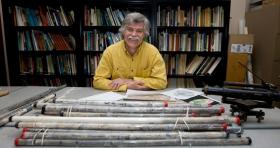 UC interdisciplinary researchers and global collaborators dig into the past to inspire modern water management strategies that can save time and money and may avoid negative effects on our climate.
Tucked away in a laboratory in University of Cincinnati's Braunstein Hall are tubes of rock and dirt that quietly tell a story –– a story that looks back on ancient society's early water conservation. UC researchers hope the story will aid in the future preservation of our planet's most precious resource.

In an effort to help manage the world's water supply more efficiently, an interdisciplinary team of University of Cincinnati researchers from the departments of anthropology, geography and geology have climbed through rainforests, dug deep under arid deserts and collaborated with scientists around the world to look at how ancient humans manipulated their environment to manage water.

"We begin by asking, 'What is water to humans, how do we engage with it and how does the environment engage us?'" asks Vernon Scarborough, professor and department head in UC's Department of Anthropology. "When we look at the trajectory of our changing climate, we realize that the issue is not just climate change but also water change. Climate and water work synergistically and can affect one another in critical ways.
Read more at University of Cincinnati
Image: UC's Vern Scarborough, professor of anthropology, is part of a large interdisciplinary and global collaborative effort to inspire modern water strategies by looking at how our ancestors managed water and survival challenges. (Credit: Lisa Ventre/UC Creative Services)