USGS and Partners Team Up to Track Down Nonnative and Invasive Fishes in South Florida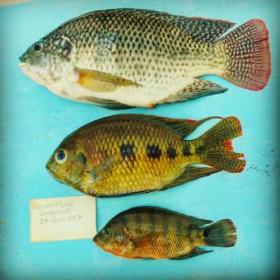 U.S. Geological Survey scientists teamed up with government, nonprofit, and university partners in South Florida's Big Cypress National Preserve to hold a scientific scavenger hunt for nonnative and invasive freshwater fish species.
Thirteen nonnative fish species were collected, including two not seen before on the Preserve: Nile tilapia and brown hoplo, also known as armored catfish. Last week's Bio Blitz-like event, known as Fish Slam, marks the first nonnative fish survey in the Preserve in almost 15 years. Using canals and rivers like highways, nonnative fish in areas like the Everglades, Tampa Bay, and Naples may have an easy route into the Preserve, one of the most pristine parts of the region.
South Florida is well acquainted with nonnative and invasive species. Freshwater fishes like the Mayan cichlid and Oscar have become major problems in the region. Once a breeding population is established, nonnative fish species can reduce native fish populations by out-competing or preying on them.
"With conduits from the Everglades and the Tampa/Naples area, the Preserve could be a hot spot for nonnative and invasive fishes, but because it hadn't been surveyed in more than a decade, we had no idea what kind of 'biological pollution' we would find," said Pam Schofield, USGS research fish biologist. "Our goal for this Fish Slam was to figure out what species are out there. This information allows managers to be better-prepared to manage aquatic environments within the Preserve. It also gives us a more complete picture of the status of nonnative fishes across the state."
Continue reading at United States Geological Survey (USGS).
Photo via United States Geological Survey (USGS).