Graphene sieve turns seawater into drinking water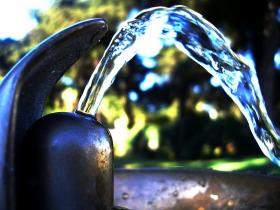 Graphene-oxide membranes have attracted considerable attention as promising candidates for new filtration technologies. Now the much sought-after development of making membranes capable of sieving common salts has been achieved.
New research demonstrates the real-world potential of providing clean drinking water for millions of people who struggle to access adequate clean water sources.
The new findings from a group of scientists at The University of Manchester were published today in the journal Nature Nanotechnology. Previously graphene-oxide membranes have shown exciting potential for gas separation and water filtration.
Graphene-oxide membranes developed at the National Graphene Institute have already demonstrated the potential of filtering out small nanoparticles, organic molecules, and even large salts. Until now, however, they couldn't be used for sieving common salts used in desalination technologies, which require even smaller sieves.
Read more at University of Manchester
Photo credit: Darwin Bell via Wikimedia Commons