20 Years Researching Harmful Algal Blooms Supports Sustainable Water Supply in Wichita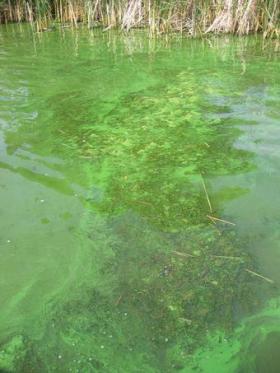 Two decades of harmful algal bloom, nutrient and sediment research by the U.S. Geological Survey is helping to support Wichita's long-term vision of a sustainable water supply into the future. Early warning indicators of harmful algal blooms have been developed for Cheney Reservoir, Kansas, according to a new USGS publication done in cooperation with the City of Wichita, Kansas.
Cheney Reservoir, located in south-central Kansas, is one of the primary drinking-water supplies for the city of Wichita and an important recreational resource. Because of population growth, urban development and water-supply needs, the city of Wichita will continue to rely on Cheney Reservoir as a drinking-water supply for the foreseeable future. Since 1990, harmful algal blooms have been present occasionally in Cheney Reservoir, resulting in increased treatment costs and decreased recreational use. Findings from long-term research may help resource managers make informed decisions regarding algal bloom occurrences in Wichita and across the globe.
Since 1996, the USGS, in cooperation with the City of Wichita, has conducted studies in the Cheney Reservoir Watershed to understand environmental effects on water-quality conditions. In 2001, the USGS started to continuously measure water-quality conditions to develop a real-time notification system of factors that may affect drinking-water treatment. Scientists created tools that serve as early warning indicators of event occurrence in near real-time. These products, which include predictive models, allow for a more proactive approach to managing harmful algal blooms. A new USGS fact sheet is also available that summarizes two decades of work.
Continue reading at United States Geological Survey (USGS).
Photo via United States Geological Survey (USGS).