Penn Researchers Investigate How Songbirds Teach Themselves Songs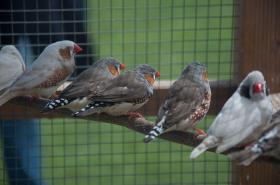 Music can be a powerful form of expression. It's especially important for songbirds such as zebra finches, which learn the songs of their fathers in order to court mates.
Until now, scientists have typically thought of the bird's vocal development in terms of how one circuit in the brain learns a song. But a new study by researchers at the University of Pennsylvania investigated how zebra finches learn songs from a different perspective. Instead of looking at how the bird's brain learns a song, they studied how one part of its brain, which they dubbed the "tutor," teaches another part of its brain, the "student."
The researchers found that in order to teach effectively, the tutor must adapt its teaching style to how the student best learns. The study, titled "Rules and mechanisms for efficient two-stage learning in neural circuits," appeared today in the journal eLife.
The research was led by Vijay Balasubramanian, a physics professor in Penn's School of Arts & Sciences, and Tiberiu TeÈ™ileanu, a visiting scholar whose main appointment is at the City University of New York Graduate Center. Bence Ölveczky, a professor of organismic and evolutionary biology at Harvard University, also contributed to the study.
Read more at University of Pennsylvania
Photo credit: Neil McIntosh from Cambridge, United Kingdom via Wikimedia Commons