Scientists engineer sugarcane to produce biodiesel, more sugar for ethanol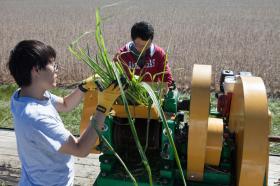 A multi-institutional team led by the University of Illinois have proven sugarcane can be genetically engineered to produce oil in its leaves and stems for biodiesel production. Surprisingly, the modified sugarcane plants also produced more sugar, which could be used for ethanol production.
The dual-purpose bioenergy crops are predicted to be more than five times more profitable per acre than soybeans and two times more profitable than corn. More importantly, sugarcane can be grown on marginal land in the Gulf Coast region that does not support good corn or soybean yields.
"Instead of fields of oil pumps, we envision fields of green plants sustainably producing biofuel in perpetuity on our nation's soil, particularly marginal soil that is not well suited to food production," said Stephen Long, Gutgsell Endowed Professor of Plant Biology and Crop Sciences. Long leads the research project Plants Engineered to Replace Oil in Sugarcane and Sweet Sorghum (PETROSS) that has pioneered this work at the Carl R. Woese Institute for Genomic Biology at Illinois.
"While fuel prices may be considered low today, we can remember paying more than $4 per gallon not long ago," Long said. "As it can take 10-15 years for this technology to reach farmers' fields, we need to develop these solutions to ensure our fuel security today and as long as we need liquid fuels into the future."
Read more at Plants Engineered to Replace Oil in Sugarcane and Sweet Sorghum (PETROSS), University of Illinois at Urbana-Champaign
Image: Researchers extract juice from sugarcane that has been engineered to produce oil for biodiesel in addition to the plant's sugar that is used for ethanol production. (Credit: Kathryn Faith/University of Illinois)