Manatees Just Lost Their Status as Endangered Species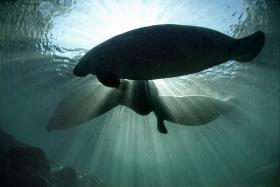 Manatees have just been downlisted from endangered to threatened; and while some are celebrating their recovery, many advocates are fearing that the move puts their future survival in jeopardy.
With only a few hundred left in existence, Florida manatees were hovering on the brink of extinction when they were first protected under the precursor to the Endangered Species Act (ESA) in 1967.
Today, the U.S. Fish and Wildlife Service (FWS) estimates that there are now around 6,620 manatees in Florida waters, which marks the third year in row that numbers above 6,000 have been counted.
Although their numbers have grown over the past few decades, their advocates have been pushing to ensure they continue to receive the highest level of protection possible under the ESA. Unfortunately, not everyone wants to make their survival a priority. In 2012, the anti-environmental law firm Pacific Legal Foundation petitioned to have the West Indian Manatee and its subspecies, Florida and Antillean manatees, downgraded from endangered to threatened under the ESA.
Read more at Care2
Photo credit: U.S. Fish and Wildlife Service Headquarters via Wikimedia Commons