Potentially Explosive Methane Gas Mobile in Groundwater, Poses Safety Risk: Study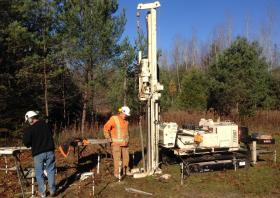 Potentially explosive methane gas leaking from energy wells may travel extensively through groundwater and pose a safety risk, according to a new study by University of Guelph researchers.
Researchers at the U of G-based G360 Institute for Groundwater Research found the gas is highly mobile in groundwater, travelling far beyond the shale wells where it is drilled and changing the water chemistry. It will also escape into the atmosphere as a powerful greenhouse gas.
The findings were published recently in the journalNature Geoscience.
Besides posing an explosion risk and degrading groundwater quality, methane can contribute to climate change when released to the atmosphere, said G360 director and principal investigator Beth Parker.
Read more at University of Guelph
Image: G360 researchers found methane gas could travel far in groundwater and act as a powerful greenhouse gas. (Credit: G360 - University of Guelph)