Hybridization between Native and Invasive Trout is Increasing in the West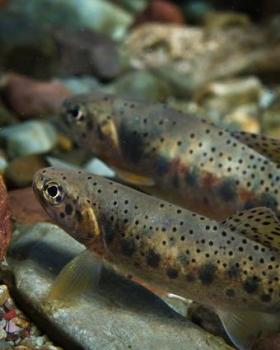 Hybridization, or the interbreeding of species, is increasing between native and invasive trout across the northern Rocky Mountains, according to a study released Tuesday by the U.S. Geological Survey and partners.
These interactions are being enhanced by legacy introductions and climate change, and pose a serious threat to biodiversity of Rocky Mountain aquatic ecosystems.
Hybridization facilitates the potential loss of local adaptations that can ultimately end up threatening the long-term survival of a species. Thus, protecting and maintaining the genetic integrity of native species is important for a species' ability to be resilient and better adapt to a sudden change in new environmental conditions.
Using data from one of the most comprehensive long-term genetic monitoring programs worldwide, the study shows that widespread introductions of invasive rainbow trout and recent climatic variation were associated with the spread of hybridization in native westslope cutthroat trout populations across the United States' northern Rocky Mountains. The spread of hybridization across space and time was primarily driven by historical stocking practices and exacerbated by warmer water temperatures, higher road densities and lower spring precipitation.
Continue reading at United States Geological Survey (USGS).
Photo via United States Geological Survey (USGS).